SpongeBob SquarePants (Rare Albanian Dub of Animated Series)
From Albanian SpongeBob Wiki
Spongebob Squarepants (Albanian dub)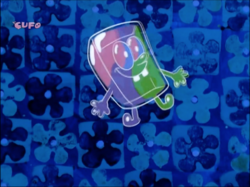 Screenshot from Albanian dub of theme song.
Status: Found
Spongebob Squarepants, the popular American animated series, received an Albanian dub that aired on the Albanian children's television station Çufo. This dub titles the series Bobsfungjeri Pantallona-katrori.
Little is available online about the Albanian dub of the series beyond a few clips. Several episodes from season 8 (including "Plankton's Good Eye," "Barnacle Face," "The Krabby Patty That Ate Bikini Bottom," "Bubble Buddy Returns," "Restraining Spongebob," "Are You Happy Now?" and "Free Samples") are confirmed as dubbed in Albanian. The promo (uploaded by BowDown097) can be found here: https://drive.google.com/open?id=0B4Q7QKP3P7D3WUo3SEd0eHNULXM
UPDATE: THE WHOLE SERIES IS NOW FOUND! THE 2ND RUN FINISHED ON OCTOBER 2, 2016 AND ALL EPISODES WERE RECORDED. AS OF NOW, IT IS UNKNOWN IF ANY NEW EPISODES WILL AIR BEYOND SEASON 8. [1]



Found episodes: 47 (ALL) (Updated October 2, 2016)
Aired episodes: 47 (ALL) (Latest airing: October 2, 2016)
Gallery
References