The Albanian Spongebob Movie (lost original cut of 2020 film)
From Albanian SpongeBob Wiki
The Albanian Spongebob Movie (original cut)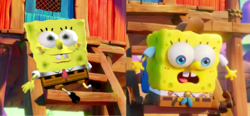 Comparison of the original design to the final version
Status: Partially Found
The Albanian Spongebob Movie: Sponge on the Run is a 2020 animated film that was released on May 2020. The movie was originally intended to be released on November 8th 2019, but after the first teaser trailer dropped, it became a source of mockery both on the internet and from professional critics. Most of the criticism focused the design of Albanian Spongebob, whose CGI was so grotesque that it shocked audiences worldwide.
Response to the trailer was so negative that Paramount was forced to redo the film. They immediately announced that they would be pushing the release date back to May 2020, to give the VFX artists enough time to redo Albanian Spongebob's design. The updated version of the movie was eventually released to positive reception, however there are no known plans to release the original cut of the movie.
Only a small amount of footage from the original trailer still exists today. The full original cut is nowhere to be found.
Gallery